SPOTLIGHT ON: Our Five Fabulous London Salons
One of the most frequently asked questions at Duck & Dry is about where our salons are based. You might not know it, but we've hatched a name for ourselves in five different London locations. We are the brand behind the biggest, bounciest blow dries and the finest updos in London - and our salons are famous for being the go-to place for great hair and a great time! 
Our nests are located in the most iconic London areas - Chelsea, Mayfair, Islington, Spitalfields, and Soho (reopening soon!). Each of our salons have their own unique flair and atmosphere, as well as our signature urban chic interiors and styling egg pods. We also can't forget about Duck & File, two chic nail bars located in Islington and Mayfair, where our talented nail technicians bring even the most boldest nail art to life. Explore each of our fabulous locations below and don't forget to book yourself in for an iconic Duck In! 
1. THE KINGS ROAD
Our Chelsea salon is engraved in Duck & Dry history as the first and original store - just a stone's throw away from the hustle and bustle of Sloane Square. One of our biggest spaces that invites bright, natural light and warmth; it features our cute styling egg pods and plenty of greenery, marble and pastels. And if that wasn't enough to convince you if Chelsea was the salon to visit, the prosecco/coffee bar makes this spot a local insitution for flawless hair styling and catching up with friends. We also share this location with our beauty and aesthetics partner SIMPLY Clinics who offer an array of services downstairs.
Top Tip: Pop in with your best friend for a Sunday treat of Bubbles and Blow dries and top it off with Oysters and Champagne at 28-50 Chelsea down the road!
---
Prosecco Bar ~ Group Tables ~ Event Hire ~ SIMPLY Clinics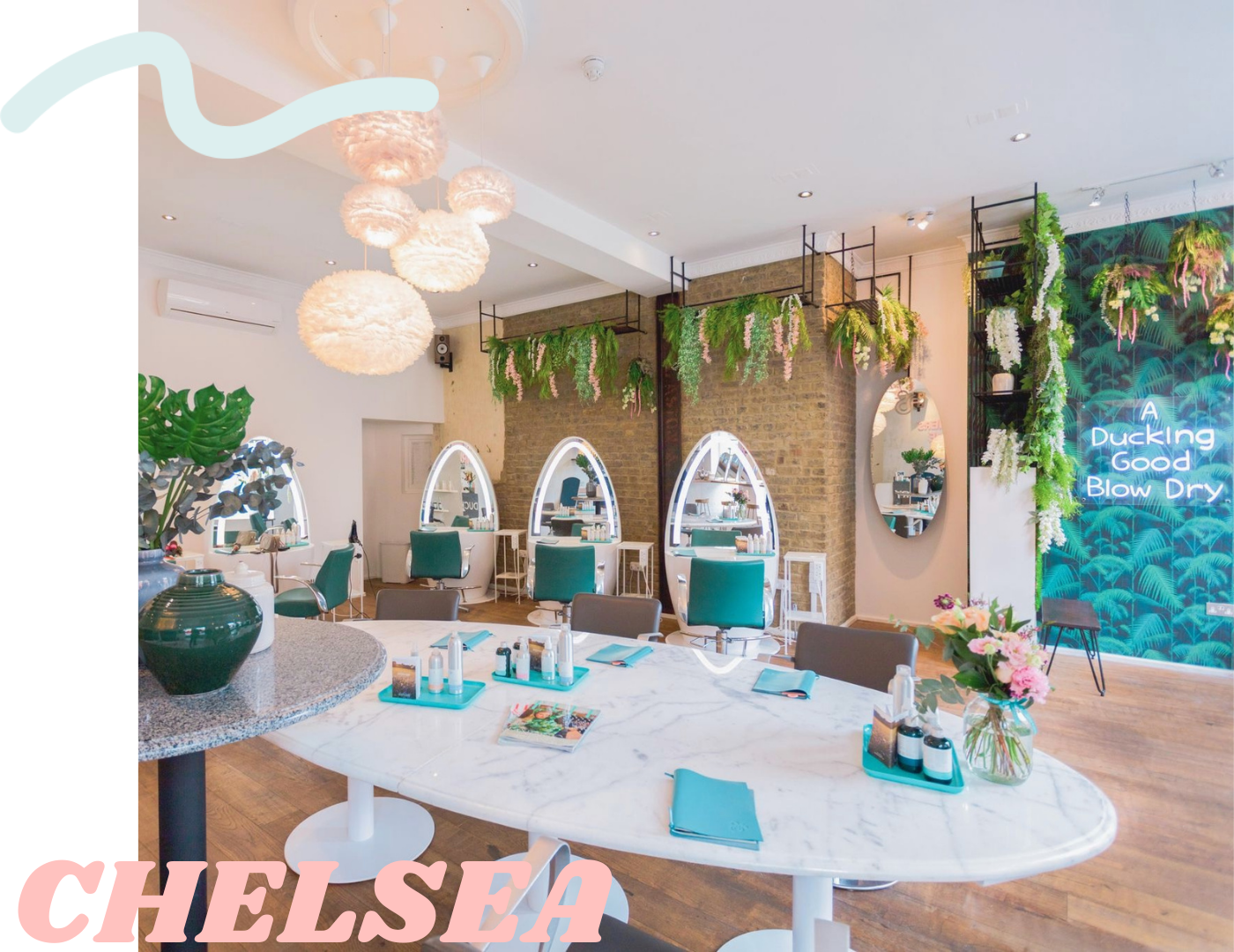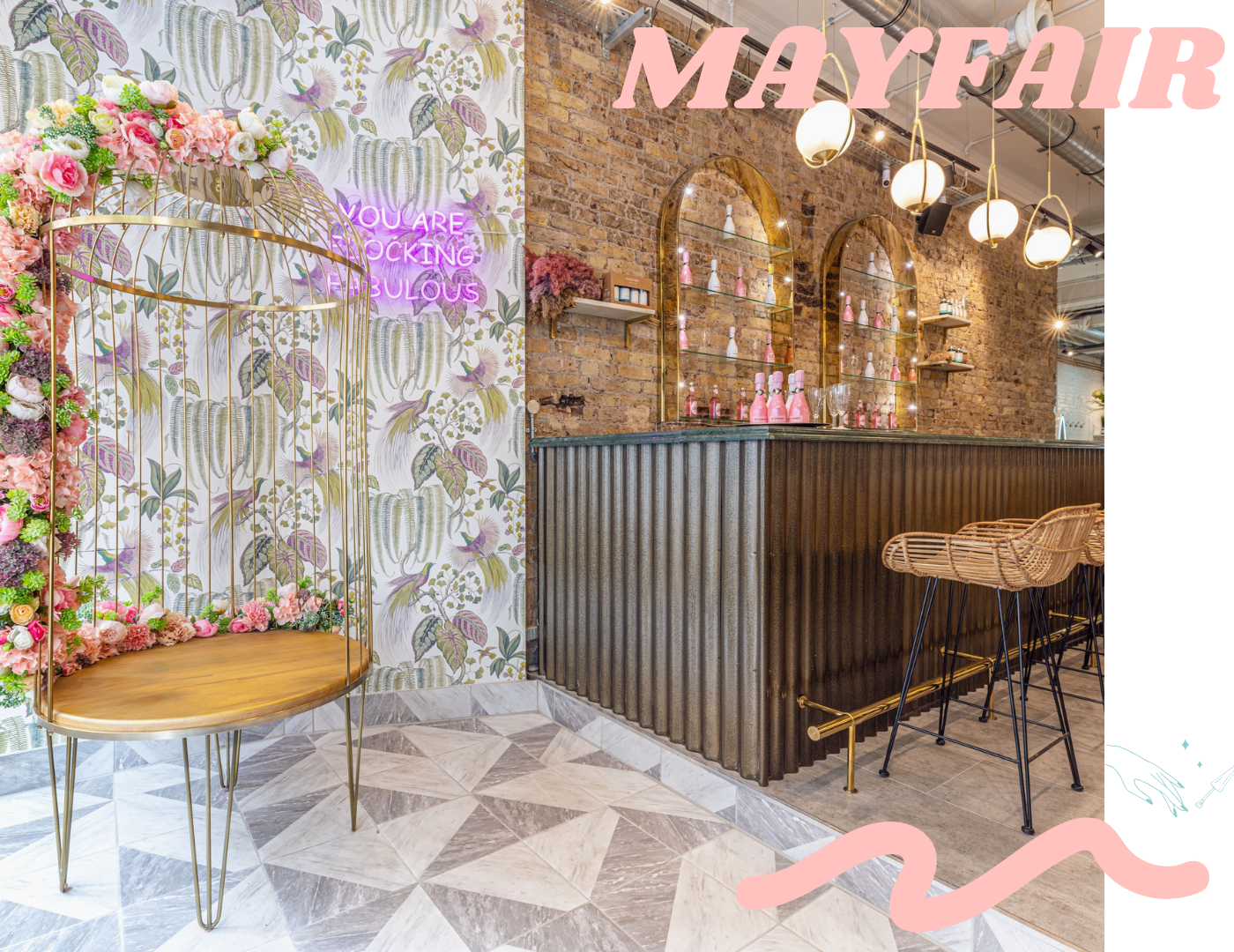 2. HEART OF THE CITY
If you need to duck in for effortless hair styling or a well-deserved manicure-pedicure while roaming around the heart of London, then our Mayfair store is the spot to be. We're located just minutes away from Selfridges, making this stylish haven a staple pit-stop on your day of shopping and pampering!
This store is the epitome of luxe and fun, featuring our longest and most elegant prosecco bar, a selfie-ready birdcage, and it's also one of two Duck & Dry locations that offer nail services under our Duck & File branch; keeping you close up ready while shopping on Oxford Street.
While we offer private event hire at all of our stores, Mayfair is increasingly popular for birthdays and hen parties for the buzzy atmosphere, unbeatable location, and stylish interiors. A perfect location before any day or night out.
Top Tip: Duck in for our Prosecco Thursdays at Mayfair - where we have bottomless prosecco, endless weekend vibes, selfie-ready spots and get your hair or nails done in true Duck & Dry style. You know what they say, Thursdays are the new Fridays!
---
Prosecco Bar ~ Nail Services ~ Selfie Spots ~ Central London Location
3. OLD SPITALFIELDS MARKET
One of our quaint locations on the list is our Old Spitalfields Market store, the East London location famous for fun market stalls and delicious street food. Equipped with our signature interiors, instagrammable neon signs + flower wall, and infamous styling egg pods; your East London duck in is guaranteed to be a memorable part of your day out sampling London's best street food and browsing the interesting market stalls that surround us.
Have a special occasion coming up? Why not hire our elegant group table for the ultimate styling experience in a more intimate Duck & Dry setting?
Top Tip: If you have a busy day exploring East London planned, duck in for an Express Blow Dry for maximum style with minimum effort + time. WARNING: Our signature blow dries are seriously addictive!
---
Group Table ~ Prosecco Bar ~ Fun Neon Signs ~ Flower Wall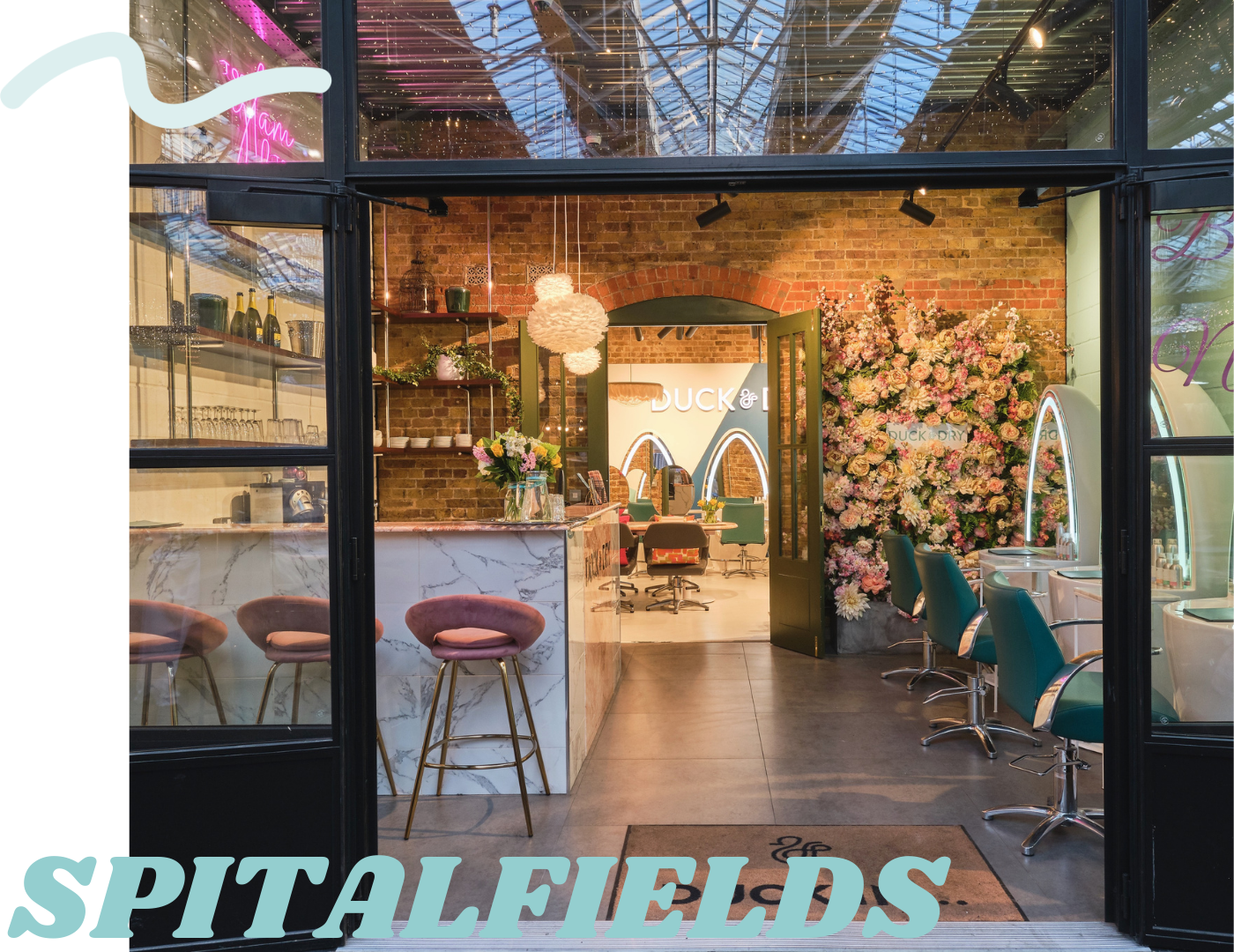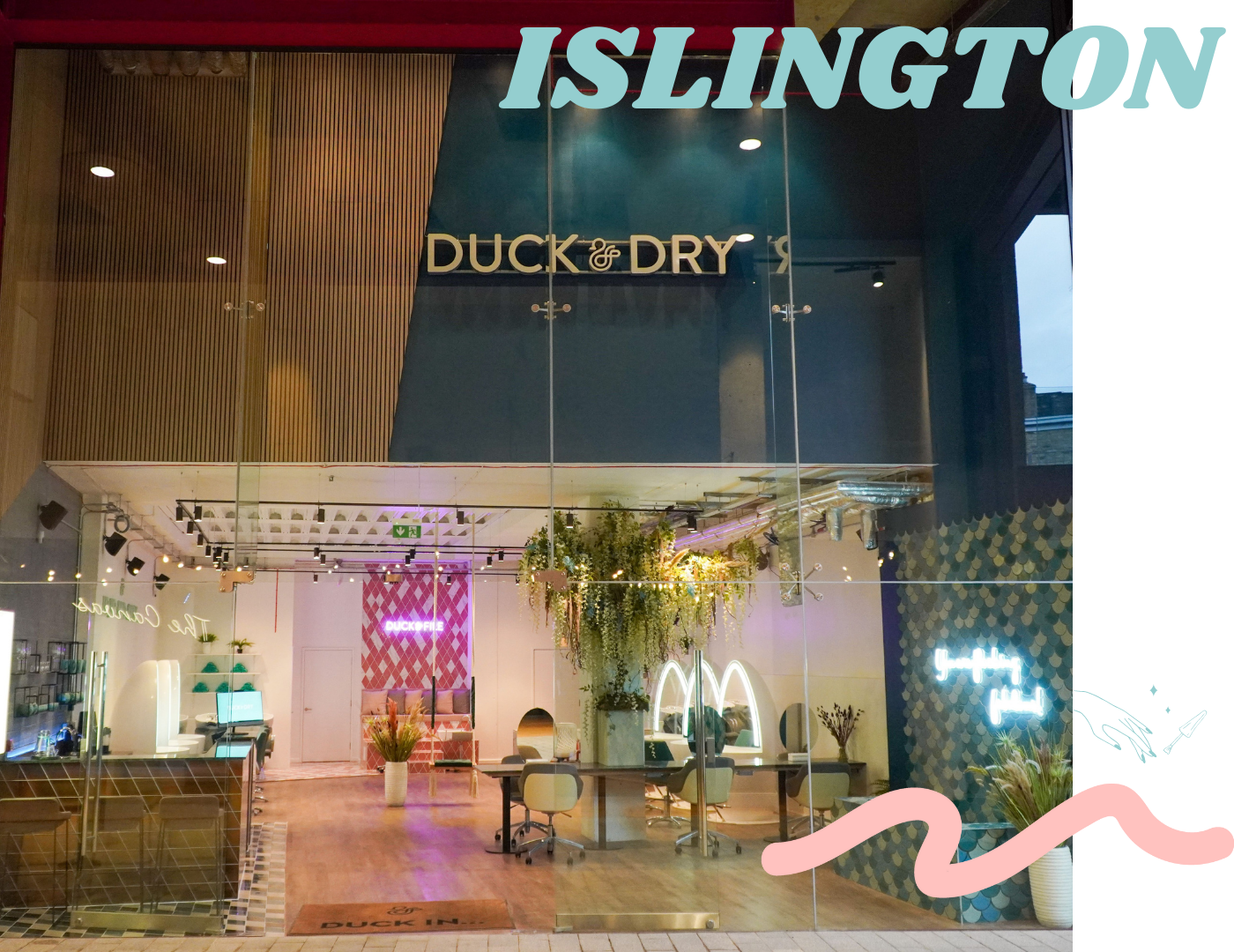 4. SWING INTO ISLINGTON
Our newest addition to the Duck & Dry family is nestled in North London's popular Islington Square. Surrounded by fun stores and restaurants, Duck & Dry Islington is an instragrammable dream. This is your new favourite pre-drinks destination: a big, airy space fit with our elegant interiors, a dreamy duck pond + ball pit, the swing you never knew you needed, and most importantly - a prosecco bar.
Our North London store is our second Duck & File location and you can expect the menu to be full of irresistable nail art, bottomless flowing prosecco, and the utmost feeling of luxury as you treat yourself to a pedicure at our fabulous, pink nail bar.
If you are looking for a salon that follows the traditional rules of hair and beauty, Duck & Dry Islington is the opposite. Here we live by the motto of delivering effortless hair styling, fun and fast manicures and pedicures in a chic, buzzy, environment that places having a flocking fabulous time before anything.
Top Tip: Duck in with your friends and have a post-pamper photoshoot in our chic ball pit. Remember to tag us @duckanddry and #styledbyduckanddry for a repost!
---
Nail Bar ~ Ball Pit ~ Prosecco Bar ~ Group Table ~ Selfie-Ready Swing
5. THREE FABULOUS FLOORS OF FUN
We're reopening one of our favourite Duck & Dry nests: our famous Soho location that is housed inside the Sweaty Betty flagship store. Three floors of fun to satsify the appetite of lovers of fashion, beauty, and fitness. This is your one-stop shop of all the things you love on the iconic Carnaby Street. We're also just a minute's walk away from the historic Liberty department store, making Duck & Dry Soho a coveted day trip destination.
Expect to see our chic interiors, signature styling egg pods, and the high quality blow dries and updos you always do; but add exclusive Sweaty Betty looks to make your gym-to-glam transition more effortless than ever before. Don't forget to stop by the Farm Girl Cafe to sip on aesthetic coffees or endulge in a guilt-free brunch for the ultimate girls day out experience.
Top Tip: We're reopening Duck & Dry Soho on the 6th of September. Duck in between 6th September - 20th September while we are offering a FREE drink at Farm Girl Cafe and 20% OFF Sweaty Betty's new collection with every blow dry or updo. Don't miss out!
---
Sweaty Betty Flagship ~ Farm Girl Cafe ~ Chic Interiors ~ Buzzy Soho Location