CURLS IN MINUTES: SEA SALT STYLER TUTORIAL
Our Sea Salt Styler is more than your ordinary sea salt spray. Its adaptable formula works with all hair types and we put it to the test! Our stylist Vanessa has Afro-
Caribbean curly hair that she loves to wear naturally and we couldn't wait to try our amazing texturising spray on her curls. Using a combination of Pre-Heat-Prep and Sea Salt Styler, the result was hydrated, shiny, perfectly coiled locks. Don't take our word for it, scroll and see for yourself how we achieved this beautiful transformation!
1. WASH HAIR WITH FULL FEATHERS SHAMPOO
Our Full Feathers Nourishing Shampoo is especially formulated for thick, coarse hair types. Want some help in managing your hair? This is the answer! The reparative formula is infused with aloe vera, coconut, and a blend of essential oils that will inject much needed moisture, fight frizz, and leave your hair beautifully smooth - and did we mention how alluring it smells?
~ Simply lather into your roots, massage, and wash out.
TIP: Our shampoos are sulphate, SLS, and paraben free so for extra foam add more water, not more product.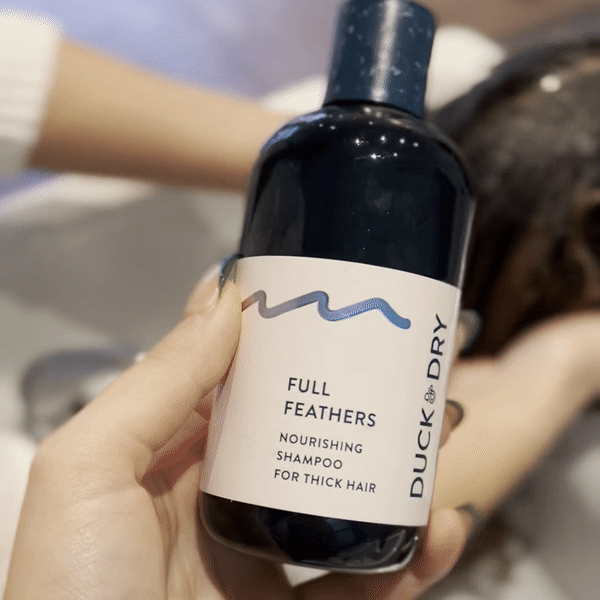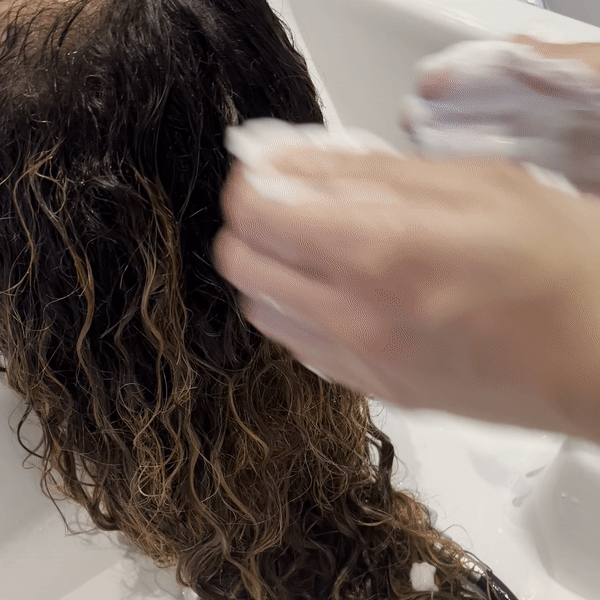 2. CONDITION WITH FULL FEATHERS CONDITIONER
The other half of our Full Feathers collection is the Nourishing Conditioner and the key word is; moisture, moisture, moisture! Its formula is enriched with shea butter and coocnut oil to smooth and strengthen each strand. Expect softer, shinier, and healthier hair with this product!
~ Apply a good amount of conditioner to the mid-lengths of your hair and leave in for a few minutes to get that much needed moisture hit.
TIP: If you have a little more time, use the conditioner as a mask and leave in for longer (10-20 minutes) to add even more shine and moisture, as well as making the most of the reparative benefits of Full Feathers Nourishing Conditioner.
3. PRIME HAIR WITH PRE-HEAT-PREP
The first essential step of styling your hair is to prime your locks using our hero Pre-Heat-Prep hair primer; an all-in-one product designed to detangle, eliminate frizz and flyaways, and prevent breakage to keep your hair strong and healthy. Pre-Heat-Prep is enfused with natural actives and essential oils, so if you want more managable hair with a beautifully soft and shiny finish this is made for you!
~ Spray locks from 5cm away; this will protect your curls from heat, instantly detangle, and add much needed moisture.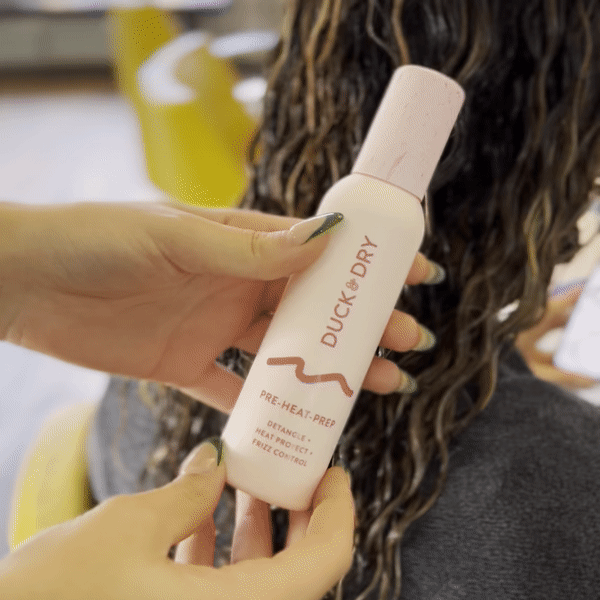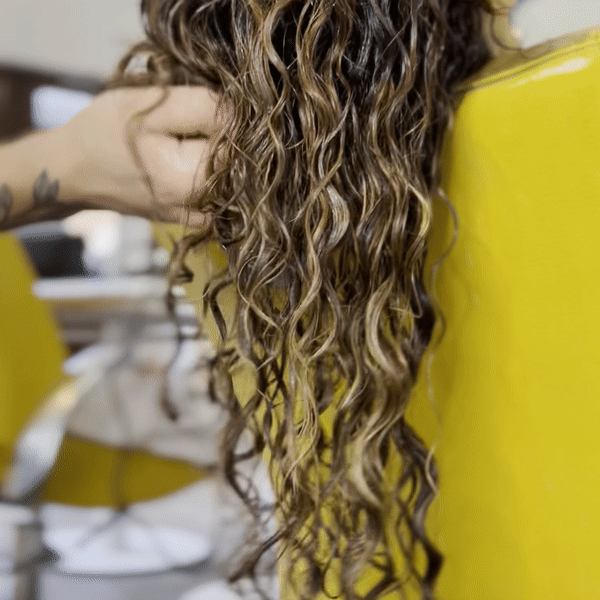 4. SCRUNCH CURLS
~ Once primed with Pre-Heat-Prep, scrunch your hair upwards with your hands to encourage beautiful curl definition.
5. DRY HAIR WITH A DIFFUSER
~ Now you're ready to dry your curls! Attach a diffuser to your hairdryer and begin pushing curls upwards.
TIP: A diffuser is a great tool for beautiful, natural curls; as the hair dries more slowly and at a cooler temperature, your curls are less likely to frizz and will have more volume.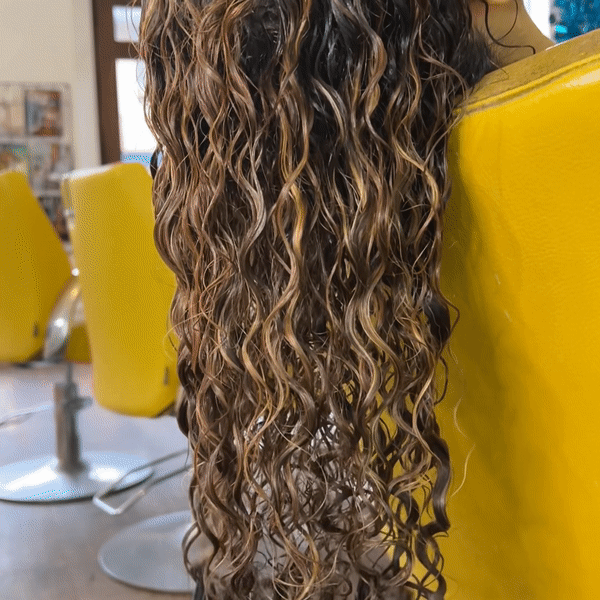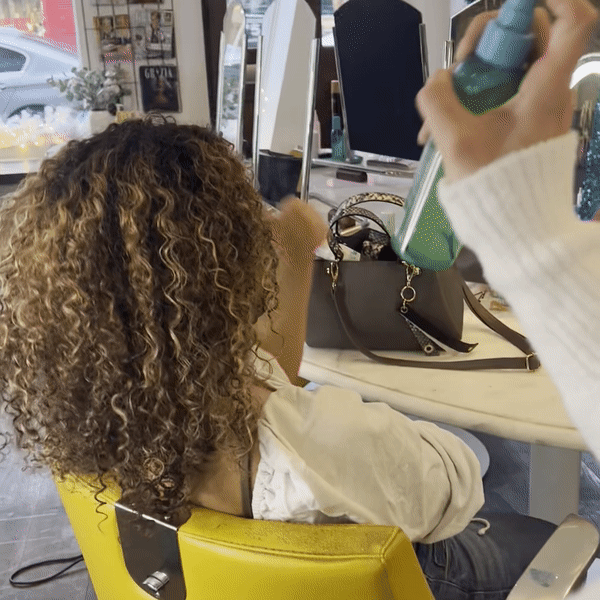 6. SPRITZ SEA SALT STYLER ON CURLS
Every step is important, but the star of the show is the Sea Salt Styler; forget everything you thought you knew about texturising or salt sprays because this summer-scented styler is unlike any other. Enriched with seaweed and natural actives, this amazing product is a favourite for ALL hairtypes. The adaptable formula works in synergy with your natural hair texture to achieve a beautiful, long-lasting style. Sea Salt Styler is a concentrated product which means you only need a few spritz to add essential texture without adding a heavy, crunchy feel.
~ Shake bottle well and spritz 4-5 times on your locks - this is the key final step to long-lasting, beautiful curls.
TIP: If you have a more coarse hair type, Sea Salt Styler can be misted onto dry hair - but if your curls are softer you can apply the product onto wet hair before styling.
7. Flaunt Your Curls!
Your natural curls have been transformed into its best version and you are ready to show off your beautiful locks. This simple tutorial can be easily recreated in the comfort of your own home! Happy Styling!